Current Members of the 48th Tenn. Inf. Reg't (Nixon's) (Reactivated)
Tennessee Valley Battalion 2015
COMMAND STAFF & NON-COMMISSIONED OFFICERS
| | |
| --- | --- |
| David Bradley | CAPTAIN |
| Jerry Hughes | FIRST LIEUTENANT |
| Derrick Holt | FIRST SERGEANT |
| Chuck Lindsey | QM SERGEANT |
| Clovis "Hank" Brewer | CHAPLAIN |
| Adam Lochemes | SECOND SERGEANT |
| Lee Sesler | FIRST CORPORAL |
| Ira Bradley | SECOND CORPORAL |
| Joey Jeter | THIRD CORPORAL |
ENLISTED MEN
| | |
| --- | --- |
| Jaret Arnett | Jeff Arnett |
| Jessie Arnold | Bobby Bivins |
| Robbie Blackard | Marc Brewer |
| Rusty Brock | Lane Brock |
| John Austin Childress | Seth Flippo |
| Larry Fudge | Coty Gatlin |
| Stephen Givins | Stephen Hensley |
| Steve Holt | John Jeter |
| Lawrence Kenzie | Chuck Lindsey |
| Allen Mathis | Kirk McCollum |
| Eric Osborne | Charles Reese |
| Thomas Rich | Luke Sesler |
| Don Smith | Tyler Stark |
| Jonathan Stricklin | Danner Tedder |
| Trey Willis | Brandon Workman |
Membership Information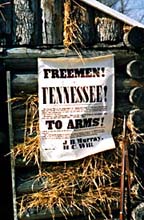 Listed Below is some information you might find handy if you plan on geeting involved with Reenacting.
Uniform and Accoutrements
The following Uniform items are recommended;
*HEAD GEAR: Kepi, Forage Cap or Slouch hat (Personal Preference)
*SHIRT: Period pattern shirt in solid colors or prints
*TROUSERS: Period Military or Civilian Trousers
*COAT: Sack Coat, Shell Jacket or Frock Coat (Personal Preference)
*SUSPENDERS: Period Cloth or Leather suspenders
*FOOT WEAR: Brogans, Period foot wear
*SOCKS: Heavy grey wool socks
EYE WEAR: (If Needed) Period Frames with lenses or, Contact lenses
The Following Accoutrements are recommended;
*Cartridge Box w/ sling
*Cap Pouch
*Waist Belt with Appropriate buckle
*Haversack, White canvas or tarred canvas (Ration Bag)
*Period canteen
*Bayonet w/ scabbard
*1863 Enfield or CSA Richmond rifle musket. NO ZOUAVE RIFLES or ANY 2 BAND MUSKETS
*Tin Cup and Plate
3 Tined Fork, Period Spoon and Knife
Gum Blanket or Poncho, Period pattern
*Period Bedroll, blankets, quilts
Knapsack
Shelter Half (Dog Tent) or A Frame Tent
* Necessary Items
---
Joining a Reenacting/Living History Organization is a fulfilling and sometimes exhausting experience. Units strive to portray the life and actions of the CW Era soldier as accurately as possible. To start with, attend a reenactment or living history event as a spectator to see what we do, then make the move to join.
Don't be bashful, we're not. Talk to re-enactors and tell them you are interested and where you are from. Most units will direct you to a unit in your area. The cost CAN be expensive. Several members of the 48th, Co. F. have more than one rifle and uniforms and if you contact us early enough before a scheduled event we will reserve equipment for you to borrow, including powder and caps. Try it before you buy it. Most units have a style of uniform they prefer members to wear. Find a home and they will go and help direct you on what you will need.
Most units stay active throughout the year, with reenactments, parades, memorial ceremonies, grave dedications and living history events so, there is always the question of time. Most units recognize that this is a hobby and should never come before work or family obligations.
If you join our unit or any unit in our battalion you will be expected (required in by-laws) to fight Federal on occasion. Our alter ego in blue is the 10th U.S.V.I.. Some pieces of the uniform and equipment are ok for both armies. A jacket and hat are the major differences in our unit. DO NOT buy a completely different outfit before you ask.
Contacting the 48th Tennessee
For membership information on the Forty-eighth Tennessee, contact the following;
Captain David Bradley: sgtbradley@tds.net: (931)722-9572
1st Sgt. Derrick Holt: thedholt@yahoo.com: (931)332-3041